The hospitality industry is changing faster than ever. As the demand for services and experiences continues to grow; restauranteurs, hoteliers, travel experts, and others serving in this sector are pivoting their strategies in order to remain relevant and competitive. Experiences and personalization have become the new standard for customers. The changing needs of customers along with the socio-economic ups and downs bring its own set of challenges for the hospitality sector, especially in terms of hiring and retaining a skilled workforce.
The hiring and retention trends for hospitality took a sudden flip soon after the COVID-19 pandemic hit. As business needs evolved, the industry, which once competed for high-quality workers amid a low unemployment rate, had to resort to hiring freezes, furloughs, and layoffs.
"Unemployment in the hospitality sector, mainly for food and accommodation service workers, rose from 6% to 37%, during the COVID-19 pandemic leaving its frontline workers desperate and insecure."  (Rosenberger, 2022)
This article sheds light on key trends for hiring and retaining employees in the hospitality sector along with an in-depth analysis of how and what changed for the food, accommodation, hotels, and leisure sector before and after the global pandemic.
How was the Hospitality Industry Hugely Impacted by the Pandemic?
Destination closures and partial to complete lockdowns across the US in Q2 of 2020, directly hit the hospitality sector. The food, accommodation, travel, and tourism industry got hugely impacted, losing almost 80% of its sales. (Economics Observatory, 2020)
As leisure and hospitality came to stand still during the pandemic, business owners had to let go of the majority of their workforce. However, it wasn't long before the tables started to turn against the employers, as workers no longer wanted to come back for work in hospitality.
"70 percent of the unemployed workers were looking for jobs outside the leisure and hospitality sector."  (Beekeeper, 2022)
As the Bureau of Labor Statistics reported on January 4th, 2022 that 4.5 million workers quit their jobs in November last year. Out of these workers, the quit rate for the leisure and hospitality sectors rose from a few percent to 6.4% within a month. (The Economist, 2022)
The psychological toll of abruptly losing a job combined with the fear of contracting infection, poor work-life balance, and little to no extended support by the hoteliers and restaurateurs led employees to reassess their previous and current working conditions.
Industry-Wise Breakdown of Employee Turnover in Hospitality
The hospitality sector has always been notorious for high employee turnover as compared to other industries. The annual employee turnover rate for hospitality prior to the pandemic was 79% which rose to an all-time high of 85-90% post-pandemic. (Hurdle, 2022)
The highest employee turnover in this industry is mostly associated with the seasonal nature of jobs in hotels, restaurants, and tourism. However, the majority of the workers are of the opinion that there's little to no career growth in the hospitality sector with very limited benefits and lesser living wages.
"10-15% of the annual turnover rate is considered to be healthy by HR professionals. However, the annual turnover rate for hospitality hovers around 70 to 80% annually."  (schedulehead, n.d.)
To understand the hiring and retention strategies for the hospitality sector, it's important to know where the industry stands now in terms of the annual churn rate within its sub-sectors.
Restaurant Industry
The employee turnover rate in the restaurant industry has been astronomical. Besides looking after the operational costs, discrepancy-free stock management, and high employee turnover rate is another pressing issue for restauranteurs to look after. The average employee churn for restaurants is 75% which is expected to increase following the pandemic. The percentage is 1.5% higher than all other private sectors where the turnover is around 46% approximately.
"Restaurant owners have to face an average employee turnover of 75% which is 1.5 times more than the employee churn rate in other private sectors."  (Ohannessian, 2022)
Hotels and Accommodation
The number of employees leaving hotel jobs is increasing, adding to the worries of hotel owners. With high employee turnover, it's getting tougher to meet customer expectations well. This not only impacts the business reputation but a huge chunk of profits are getting spent on hiring and training new employees.
"The hotel and motel industry reports an average employee churn rate of 73.8%.  (Johnson, 2022)
A major reason for hotel staff leaving in great numbers is the sexual harassment they have to face at the hands of customers. Also, 86% of the staff reported feeling unsafe at work. Along with this, the physically demanding nature of their job and having fewer basic benefits for employees are adding more to employee dissatisfaction. (Harver, 2022)
Travel and Tourism
Travel and tourism is one of the biggest contributors to the U.S GDP. However, the industry and its workforce suffered because of COVID-19. With the complete ban on national and international traveling, 65% of the lost US jobs were from the travel industry. (Weissmann, 2021)
Besides the unpredictable nature of jobs in the travel sector, workers are reportedly leaving jobs because of work-life epiphanies, low wages, burnout, and lack of desired benefits in the sector.
The reasons for employee turnover are more or less the same for every sector in the hospitality industry, and the pandemic has certainly fanned the flames by putting employees on a better edge than employers. Hence, progressive employers are actively seeking ways to reduce the dilemma of the revolving door culture in hospitality.
Hiring & Retention Trends in the US for Hospitality
After a post-pandemic rebound, the hospitality industry has started to gain momentum. The surge in consumer demand is expected to match the impact of its depression. Moreover, 8.3 million new jobs are expected to be added in hospitality between 2021 to 2031. (Bureau of Labor Statistics, 2022)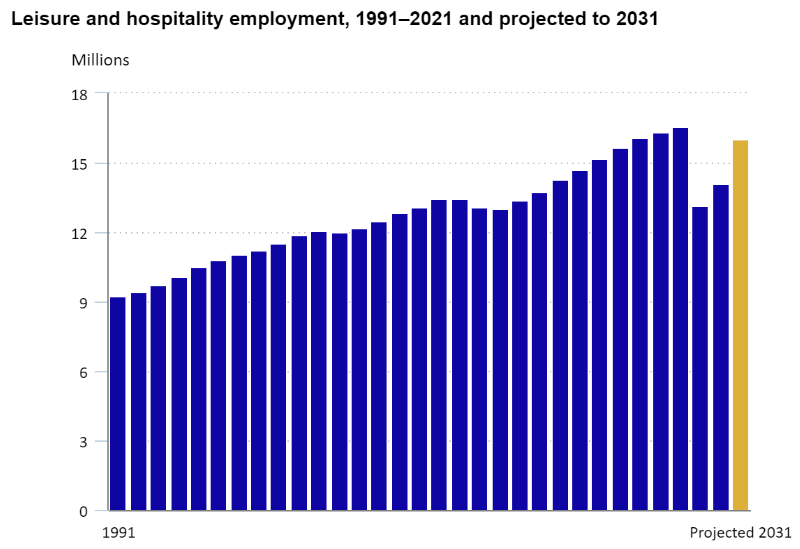 However, filling roles to meet changing expectations of business and customers still remains a top challenge for recruiters in the hospitality sector. (Paraschiv, 2022) Increased employee turnover rates, combined with their unwillingness to continue with their jobs in hotels, QSRs and other areas of hospitality demand employers to re-evaluate their current business strategy and tailor it to mitigate the current and future hiring and retention challenges.
Below are the top three hiring and retention strategies that competitive hospitality recruiters are implementing to hire and retain a skilled workforce.
Up-skilling and Reskilling Workforce
Cross-skilling is another vital strategy that modern-day recruiters are adopting to meet the changing business needs. It's a process where employees are trained for multiple skills. Cross-skilling employees or upskilling and re-skilling them is proving to be a beneficial step towards keeping up with the changing business pace. This approach lets employees feel that they're growing professionally in their careers while making them more valuable for the business.
For example, restaurant owners can make their "back of the house" work in the kitchen more interchangeable so that absence of employees can be covered. This way, restaurants can meet a greater influx of customers and can fill the missing positions without significant impact to their business.
Making Meaningful Rewards Packages
Workers in hospitality are demanding higher wages. The general desire from the US workforce is to raise their wages to $15 per hour. (Adia, n.d.) While a higher pay along with other rewards are considered valuable but may not be the only decisive solution for every industry.
For example in hospitality, if your employees are mainly hourly, offering them extended employee benefits like on-demand pay, education discounts, tuition reimbursement, and wellness benefits can create enough difference for an employee to stay with a company longer. Since most of the workforce employed in hospitality is Gen Z, who work part-time or seasonally to cover tuition fees, educational benefits along with flexible scheduling may be worth more than a few added bucks.
"Most companies waste 10% to 20% of their employee benefits budgets to provide rewards that they don't want." (Grant Thornton, 2022)
What's really important is for employers to understand the pain points of their employees and offer them benefits that work for both sides. Your frontline workers may have different values for certain rewards than for a vice president. Therefore, make sure that you're investing wisely in your employees and offering them benefits that they actually need.
Re-examining Retention Strategies
Filling job positions is not the only concern when it comes to recruiting in the hospitality industry. Retaining valued employees, especially when the competition is so high, is also a key concern of recruiters. Just like some companies are introducing signing bonuses and introducing on-demand pay benefits to attract new talent, other organizations are making amendments to their existing employee packages to keep their current workforce happy.
Hospitality organizations can take steps and conduct feedback surveys and questionnaires for employees to identify their key stressors. Organizations can provide training options for their employees to support their career advancements. This is a sure way to promote a healthy culture where workers feel valued.
How Are You Holding Up with Current Hiring Trends?
The years 2020 and 2021 have been the years of reinvention. The upheaval caused by the pandemic, later followed by Big Quit, and inflation on the rise, completely changed the dynamics of work not just for the hospitality industry but for all other sectors. Travel, leisure, retail, and hospitality were the industries significantly impacted due to issues with supply-chain and decreased flow of customers, ultimately affecting recruitment.
However, finding out what the employees are looking for in a job is always the first step. A company has to determine what it can do to address those concerns and win the talent war amidst the tight labor market. Providing employees with the financial certainty in the form of instant access to their wages, competitive living wages, and ensuring their safety at the workplace can lead you to retain your workers better and hire the right talent faster.